Welcome to the MTU NMCI John Holland Library
Opening Times
Monday - Friday: 9.00am- 5.00pm
Late night study spaces open 5.00pm - 10.00pm
*In the event that NMCI Librarian is unavailable, please contact the main NMCI Reception Desk:
Collection Information
The Holland Library, NMCI is a focal point for students outside the classroom environment. Here students can use open access computers, read at individual study spaces and browse through our book and journal collections.
Currently the library has a book stock of approximately 4,000 volumes and this collection is continually being developed with support from MTU and the Irish Naval Service. The library has a maritime focus and subjects covered range from maritime law, meteorology, marine engineering, seamanship and navigation.
The Holland Library contains an extensive collection of books, eBooks, periodicals, and journals which support the Department of Marine Studies.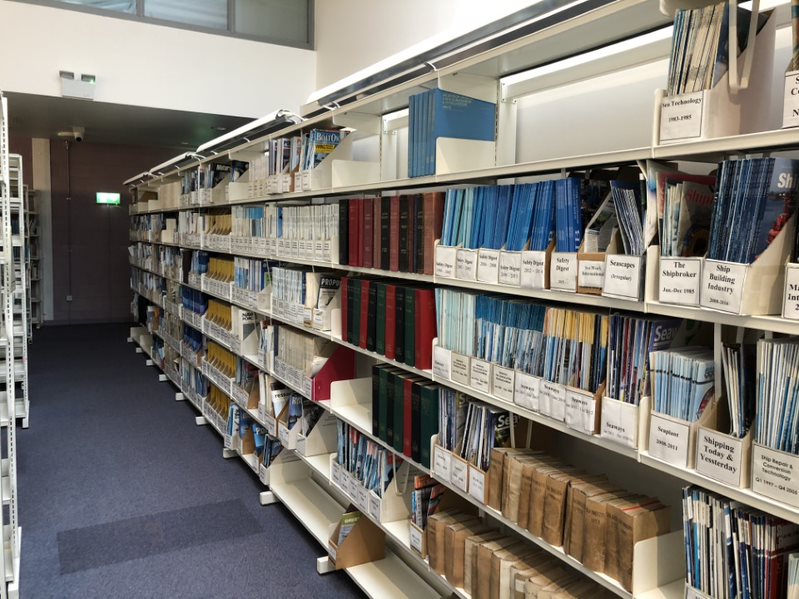 Students can search the library catalogue from here
Since Marine Studies is so specialised, NMCI has its own Subject Guide on the Library website.
From the NMCI Subject Guide, students can view essential reading lists, booklists created for specific topics and popular books on various Nautical Science topics. Students can also access the NMCI and MTU Library Catalogue.
Please ask at the NMCI Library issue desk if you require assistance searching the library catalogue.
Overview of NMCI Library Services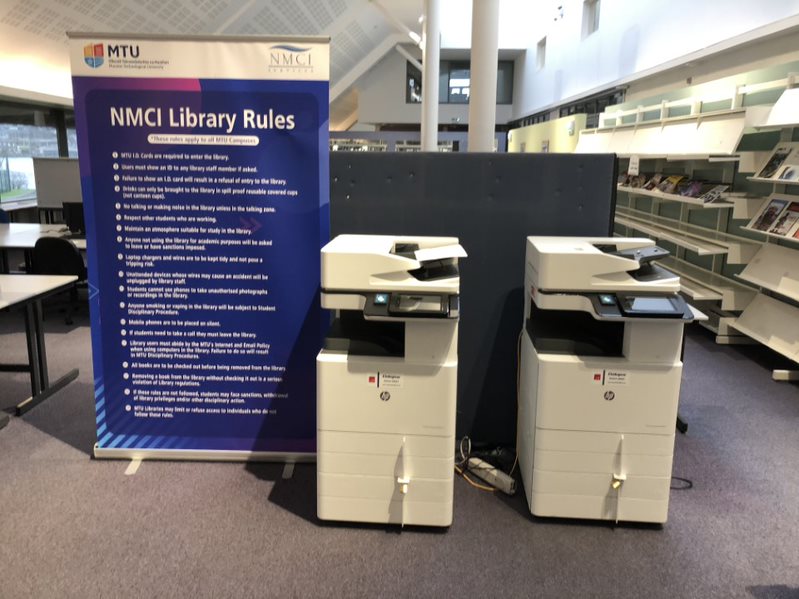 A brief overview of NMCI Library Services can be viewed on our dedicated booklet, which can be accessed here.
Borrowing Material from the NMCI Library.
To view details on NMCI student & staff borrowing privileges, please click here.
Library Policies
Policies relating to the use of all MTU Libraries can be viewed here

Library Databases
All MTU students & staff can access Databases and e-Journals via the MTU Library webpage
Simply click on the E-Journals tab to be taken to a page listing of all of our online Journals and the subjects covered by the databases.
E-Books
MTU Library provides access to over 100,000 eBook titles.
There are many benefits to eBooks including instantaneous online access, the ability to search an entire eBook for a specific word or term, download titles to your personal device or even print sections. Our eBook collection even allows you to set up a virtual bookshelf of favourite titles, highlight sections within chapters and create virtual notes.
To search e-books or find out more about eBooks and how they can help you with your studies in NMCI this year, go the MTU Library Homepage and click on the E-Books Tab.
You can also visit our dedicated YouTube channel for some helpful tutorials on how to use our eBooks.
MTU Click and Collect
All MTU Libraries including the NMCI Holland Library currently offer a Click and Collect service.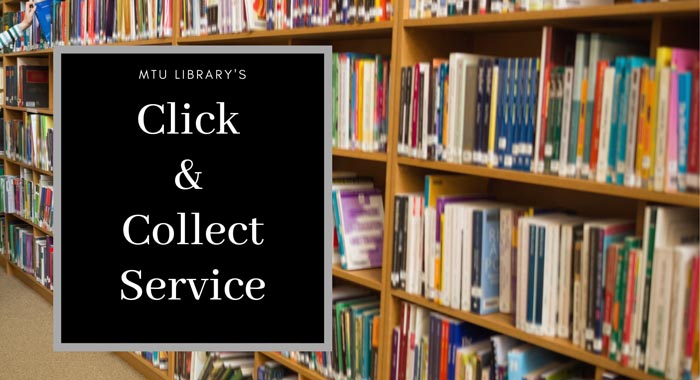 To discover more about our convenient Click & Collect Service follow this link.
MTU Library Social Media Accounts
All MTU libraries maintain Social Media Accounts on Facebook, Twitter, YouTube, and Instagram. Access these accounts from the main MTU Cork library homepage to learn about library events, student information sessions, new resources and much more.
MTU SWORD Repository

SWORD (Southwestern Open Research Deposit) is MTU Library's Institutional Open Repository accessible via the library webpage https://sword.cit.ie/
'Institutional Repositories bring together all of an Institutions research under one umbrella, with an aim to preserve and provide access to that research.
Institutional Repositories are an excellent vehicle for working papers or copies of published articles and conference papers. Presentations, senior theses, and other works not published elsewhere can also be published in the Repository'.
You can use SWORD to browse Theses and other research by departments and Research centres across MTU Cork and Kerry.
The Assignment Toolkit
MTU Libraries launched an Assignment Toolkit in 2021 to help all students on a range of topics. This easy to use Toolkit is accessible here.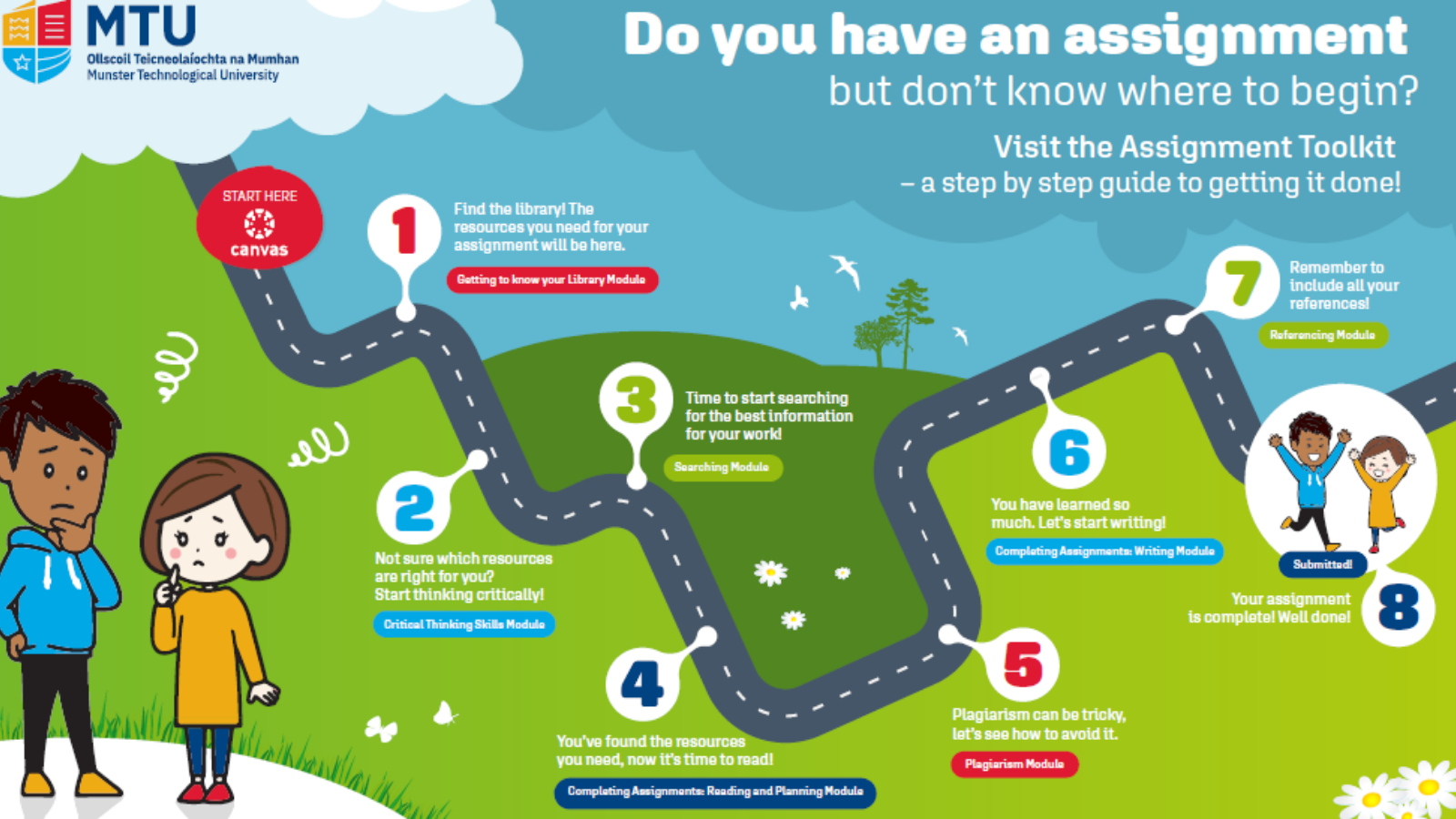 Topics covered in this online toolkit are as follows:
- Getting to know your Library,
- Critical Thinking Skills,
- Misinformation and News Media,
- Effective Searching,
- Assignments Planning and Reading,
- Understanding Plagiarism,
- Assignments Writing
- Referencing
THE ASSIGNMENT TOOLKIT WILL BE YOUR BEST FRIEND DURING YOUR TIME AT MTU!
Referencing Support
The most widely used referencing style at NMCI is the Harvard Referencing System. The Assignment Toolkit contains a module that focuses solely on the Harvard referencing style, this can be accessed here
The Harvard Referencing style will change slightly depending on the type of resource you are referencing.
Further information on how to apply Harvard Referencing can also be found in our useful Referencing Guide section on the main library homepage
SensusAccess: File Conversion Software

MTU Disability Support Services and MTU Libraries launched Sensus Access in 2021.
Sensus Access allows students and staff to convert files into a format which suits their particular requirements. You might like to covert lecture notes into mp3 format, so that you can listen to these on the go. You can even scan book pages into searchable PDFs to be used with text to speech software, or lecture slides into text to be read and adjusted on an E-Reader.
Sensus Access supports text in multiple languages and can be a great resource for language learning.
You can use Sensus Access to convert documents:
- If you own the copyright
- If it's your own work
- If you have permission from the copyright owner
- If the copyright has expired
- If it's for someone with a print disability.
Start using SensusAccess software at the following link
Library Support & Guidance for NMCI Students
- The NMCI Librarian, Michael O'Sullivan regularly provides NMCI students & staff with study, research, academic writing and referencing assistance throughout the week.
- E-mail the NMCI Librarian at michael.osullivan2@services.mtu.ie for more information.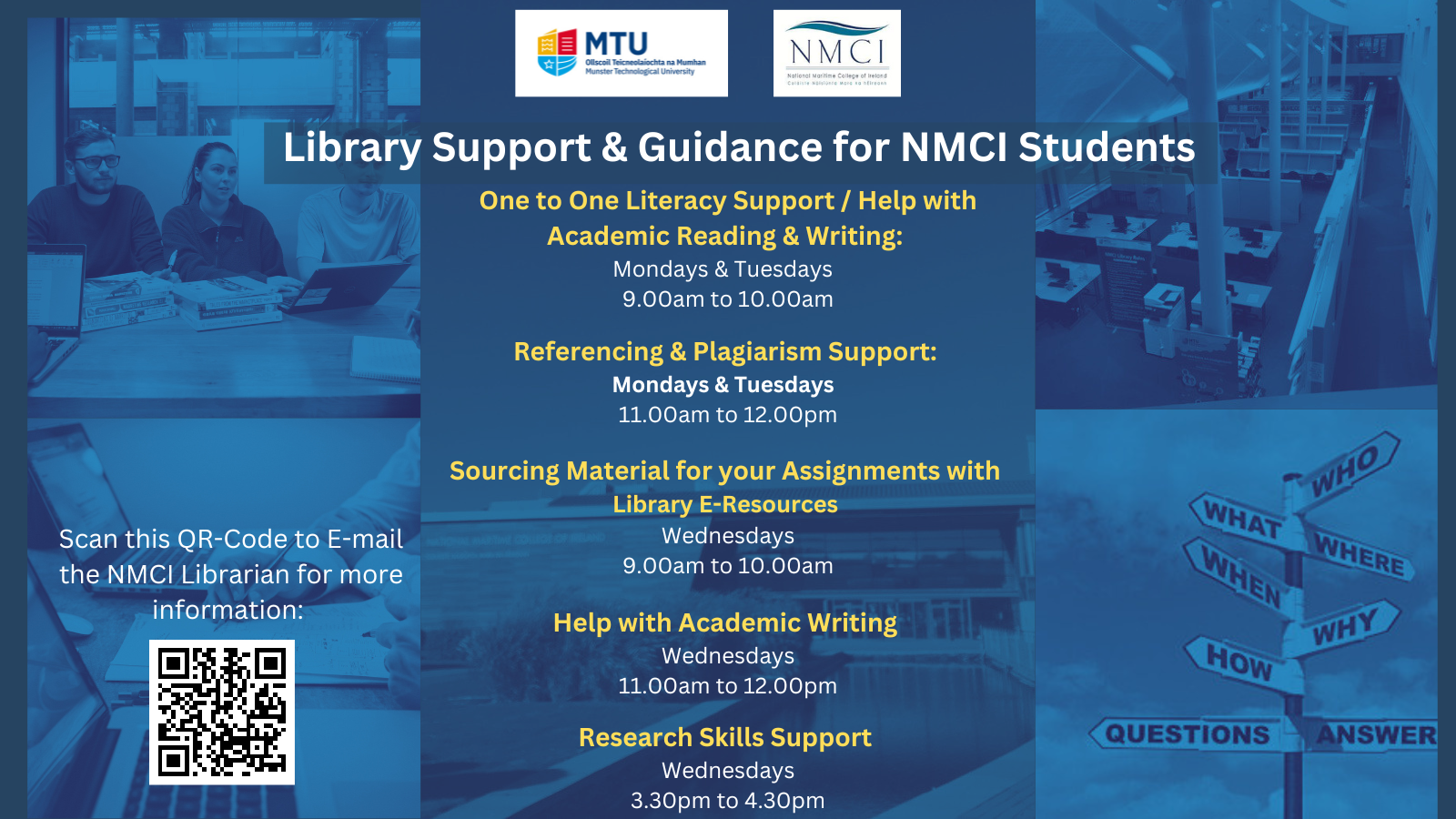 Contact IT Support Desk
Contact the IT Support Desk at servicedesk@mtu.ie
NMCI Student Counselling Services:
- Every Wednesday Paul McCarthy provides Counselling services to all NMCI students. Further Information on the services can be found here:
Text MTU to 50808! is a new service offered to all MTU Students. 50808 is a free, anonymous, 24/7 messaging service providing everything from a calming chat to immediate support. 50808 provides a safe space where you're listened to by a trained volunteer. You'll message back and forth, only sharing what you feel comfortable with. By asking questions, listening to you and responding with support, they will help you sort through your feelings until you both feel you are now in a calm, safe place. Follow these links to find out more - 50808 - Text About It (text50808.ie) & Text 50808
Access & Disability Student Support Services
The Access Service aims to ensure widened enrolment in MTU from under-represented groups. The service aims to lead the way in high quality, professional and responsive access provision.
Visit the DSS website for further information on services available.
Information on NMCI Staff support is available here
- To support Counselling and support services the MTU Libraries curated and provided a list of HSE approved titles which have been purchased and are now available at all times on the MTU e-book central platform:
The HSE (Health Service Executive) approved titles can be found here: