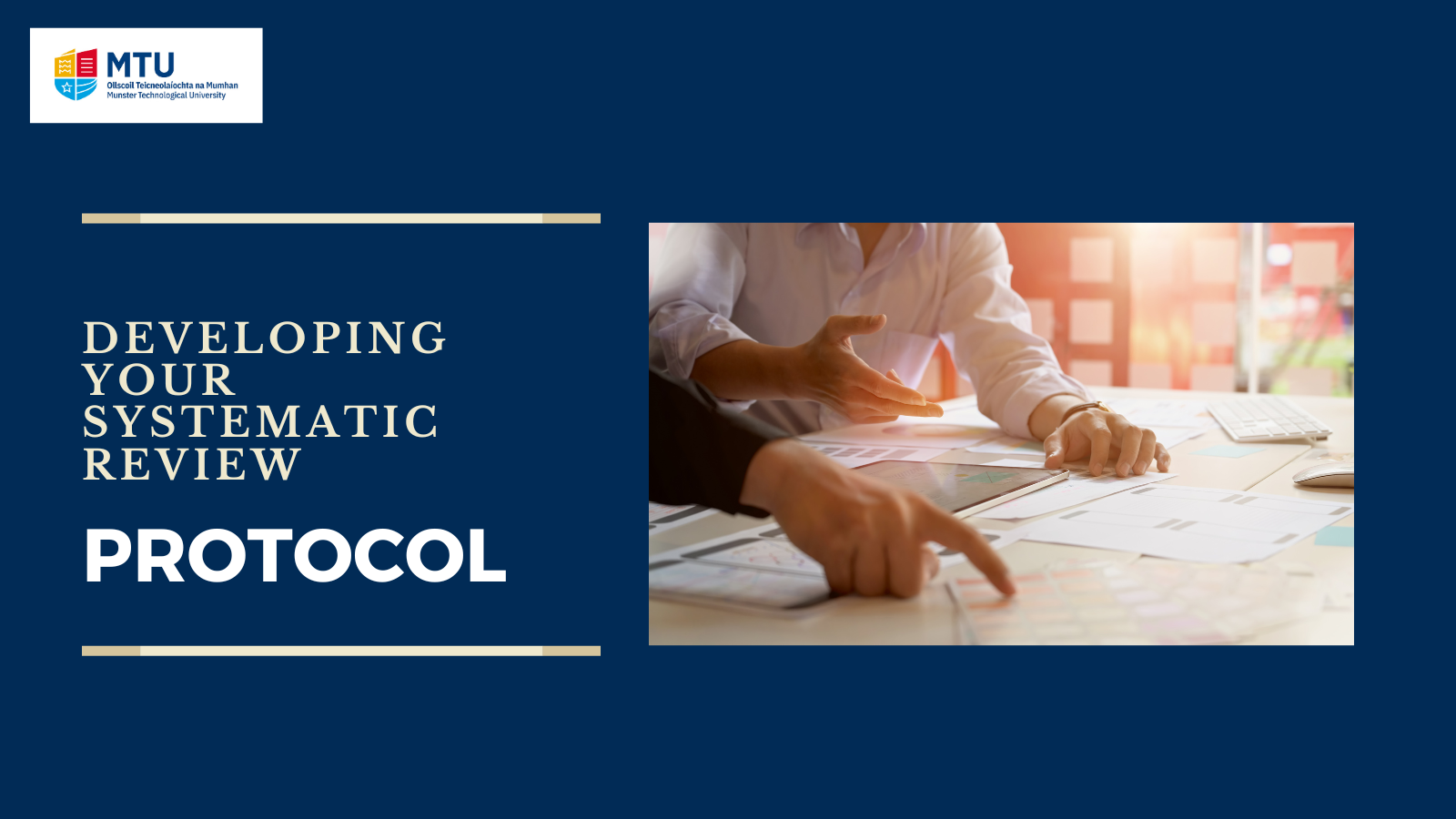 The importance of developing a Protocol
Before you start your search, it is important to develop a well-built question (also known as a protocol) outlining the methodology behind your study.
A systematic review protocol seeks to describe the rationale, hypothesis as well as the planned methods which will be used throughout the review process.
The protocol should be prepared before the review starts and should be consulted regularly by members of the review team throughout the entire review process.
Detailed protocols should be developed based on theoretical deduction rather than observation or experience.
Constructing your Protocol
One way to construct a well-built protocol or question is to use the PICO model.
PICO stands for patient/population, intervention, comparison, and outcomes.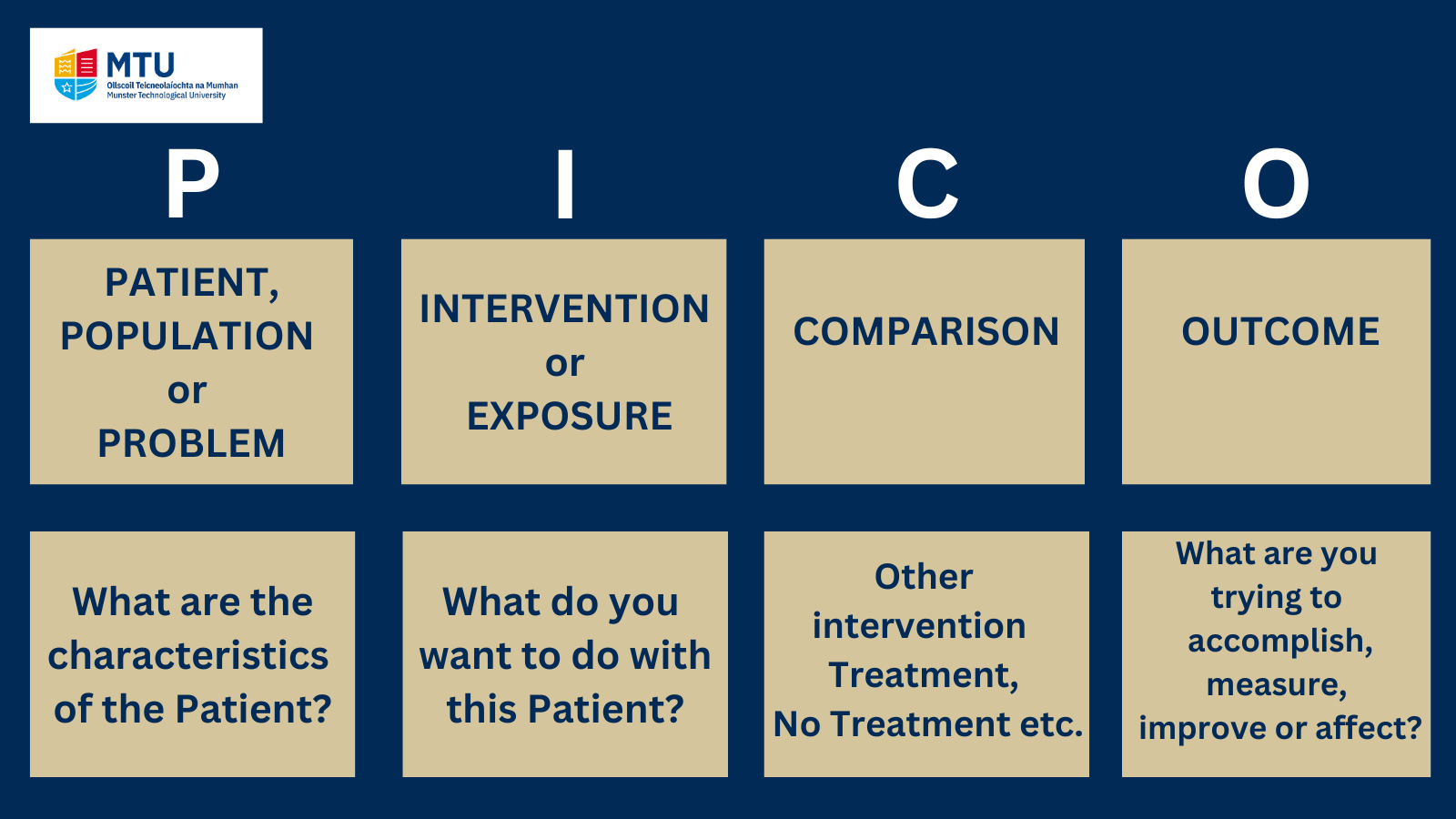 *Note: Please see below an example of completed PICO Framework
There are several types of frameworks that you can use to help structure your research and ensure you have clear parameters for your search and these are also discussed below. However the PICO framework is widely used in evidence-based practice, particularly in evidence-based medicine to formulate clinical or healthcare related questions.
In a systematic review, the PICO framework is also used to develop literature search strategies to ensure comprehensive and bias-free searches.
The question or protocol being addressed should include the rationale for the systematic review, key questions broken into PICO components, inclusion/exclusion criteria, literature searches for published/unpublished literature, data abstraction/data management, assessment of methodological quality of individual studies, data synthesis, and grading the evidence for each key question.
Inclusion/Exclusion Criteria in the PICO Framework.
You should identify the criteria that will be used to determine which research studies will be included.
These inclusion and exclusion criteria must be decided upon before you start the review. This will ensure that your search targets articles that are more likely to provide an answer to your review question, allowing you to exclude any irrelevant ones.
Criteria that should be considered include:
- Type of studies
It is important to select articles with an appropriate design for the research question.
- Type of participants
If focusing on a patient population, it is important to define their age, gender, diagnosis, as well as any other relevant factors.
- Types of intervention
Describe the intervention that you are investigating. You may want to consider whether to include interventions carried out all over the world or within Europe. The Cochrane Collaboration recommends finding all available studies from all over the world. As before, the interventions that are to be excluded may also need to be described here.
- Types of outcome measures
'Outcome measures usually refer to measurable outcomes or 'clinical changes in health'. For example, these could include body structures and functions like pain and fatigue, activities as in functional abilities and participation or quality of life questionnaires'
Adapted from Bettany-Saltikov, J. 2010, "Learning how to undertake a systematic review: part 1", Nursing standard, vol. 24, no. 50, pp. 47.
Other Types of Framework that can be used
PEO is another way to construct a well-built protocol or question and is mainly used for reviewing qualitative research.
•POPULATION and associated issues (Condition, Age, Gender Ethnicity)
•EXPOSURE - (Used for a specific exposure such as risk factor, protective factor, programme intervention etc.)
•OUTCOMES – Experience, Attitudes, Feelings, changes in condition, educational outcomes, Quality of life changes etc.
PECO – This framework is very similar to PICO but also looks at the effect of exposure to something e.g. smoky atmosphere.
•POPULATION - How is your population defined? (e.g. age, gender, ethnic group …)
•ENVIRONMENT - What has your population been deliberately or inadvertently exposed to?
•COMPARISON - What are you comparing this with, e.g. a different level of exposure? (*Leave blank if you are not doing a comparison)
•OUTCOME - Which result(s) are you focusing on or measuring? / What are you hoping to improve?
SPIDER is another way to construct a review which largely entails a qualitative evidence synthesis.
•SAMPLE - The group of people being looked at:
•PHENOMENON of INTEREST (Reasons for behaviour and decisions rather than intervention).
•DESIGN – Data collection method used i.e. use of focus group, interviews, Questionnaires, surveys etc.
•EVALUATION – Outcome measures i.e. changes in quality of life, educational outcomes, social changes etc.
•RESEARCH Type – Qualitative / Quantitative – Mixed methods
SPICE is another way to construct a review which again entails a qualitative evidence synthesis, particularly useful where the Research team want to investigate attitudes or opinions.
•SETTING – Where is the study set e.g. in a specific country, community, in a hospital, in a care home etc.
•PERSPICTIVE – From whose perspective is the study done, e.g. the patients, the health professionals., the caregivers, etc.
•INTERVENTION – What intervention is being examined?
•COMPARISON – Is the intervention being compared with another?
•EVALUATION – The outcome measures e.g. attitudes etc
Systematic review protocol template
- Use a Systematic Review Protocol Template to help you plan your review and develop your protocol.
- You can also view this Example of a completed Systematic Review Protocol to see how you should compose your protocol.
- Library staff can also show you how to complete a Systematic Review Protocol Template.Visit the SLA section of this guide to see how library staff can provide assistance to researchers about to start a Systematic Review.
You can also use PICO to determine your search terms and also think about synonyms, abbreviations and spelling variants which might be used.
Check to see if your database uses controlled vocabulary, i.e. MeSH in Medline Complete and check your search terms to see if they have a corresponding control term and add them to your search strategy. You will need to use both keywords and controlled vocabulary to be complete when searching.
N.B. Different databases have their own controlled vocabulary, which means that you will need to remap your terms as you switch between databases.
Always remember to document your search strategy as it is being developed. This will prevent confusion when you start searching.
Use a Systematic Review Protocol Template to help you create a table highlighting key concepts in your research question.The example above by the University of Tasmania Library is particularly helpful.
Example of completed PICO framework for structuring your research:
| | |
| --- | --- |
| Review title | The effect of blueberries on cognition and mood: a systematic review of human intervention trials |
| Population | Individuals of all ages, without regard to gender, race or ethnicity. |
| Intervention | Supplementation with blueberries, relevant blueberry products or extracts from blueberries. This may include freeze-dried blueberries, blueberry concentrate, or blueberry juice. |
| Comparator | Placebo or control groups. |
| Outcome | Changes in cognitive function based on cognitive screening measures (such as Mini mental state examination, Montreal Cognitive Assessment), neuropsychological interview, informant/carer responses to assessment tools or changes in mood. Secondary outcomes include: changes in biochemical levels in biological fluids. Of particular interest are inflammatory markers, cardiovascular disease risk factors, and markers of gastrointestinal health. |
Example extracted from: PROSPERO 2018 CRD42018100888.
- You can also view this finished example of a Systematic Review Protocol compiled by the University of Reading Library to see how you should compose your protocol.
Further Reading:
- Health Evidence have compiled a useful guide entitled 'Developing an efficient search strategy using PICO' which will help you to develop a clear, answerable question that can be used to generate a search strategy; identify key search terms and to document search strategies. Access this guide here.
- For more information on how to contruct your protocol using the PICO Model, visit the PICO section on the Cochrane Library website.
Registering your Protocol
By registering your review, you are letting other researchers know that your review is underway. Many journal publishers now insist on registration to ensure that the reviews follow the pre-defined criteria for conducting a systematic review.
Completed protocols should be registered on any of the following platforms depending on your particular discipline.
PROSPERO is an international database of prospectively registered systematic reviews in health and social care, welfare, public health, education, crime, justice, and international development, where there is a health related outcome
The Open Science Framework is an open source software project created by the Centre for Open Science to increase reproducibility in research. The OSF allows users to create project folders, pre-register study protocols, and store data and code files for public access.
Covers reviews in Business and Management, Crime and Justice, Disability, Education, International Development, Knowledge Translation and Implementation, Methods, Nutrition, and Social Welfare.
The Cochrane Database of Systematic Reviews (CDSR) is one of the leading database for systematic reviews in health care
View previously formulated protocols on the following platforms