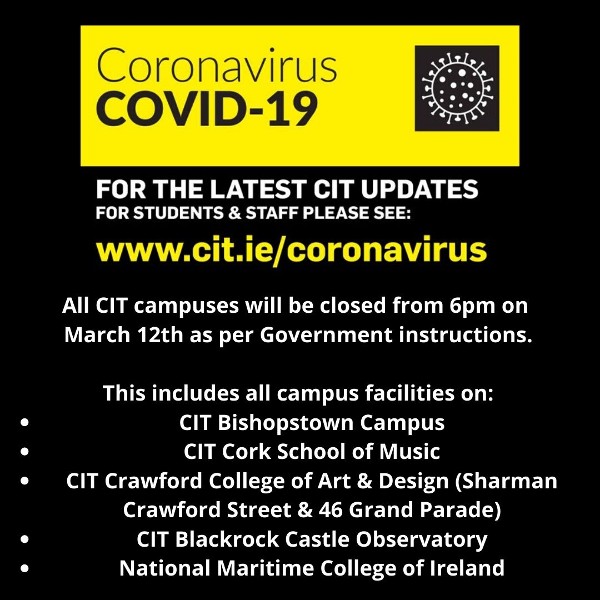 The Irish Government released its Reopening Roadmap on Friday 1st May 2020 with the first phase commencing Monday 18th May. There are 5 phases in total and the timing of each is in 3-week blocks although all are subject to revision based on ongoing public health advice. It is anticipated that Higher Education Institutions will reopen for the next Academic Year in September 2020 although social distancing measures are likely to continue past that date.
Visit https://covid19.cit.ie for further updates
This closure includes all campus facilities on:
- CIT Bishopstown Campus
- CIT Cork School of Music
- CIT Crawford College of Art & Design (Sharman Crawford Street & 46 Grand Parade)
- CIT Blackrock Castle Observatory National Maritime College of Ireland
Please visit the CIT homepage https://www.cit.ie/coronavirus for further updates.
CIT Library online services including eJournal, eBook access etc. will still be accessible during this temporary closure.
Please note that library staff will also be monitoring all e-mails sent to library.info@cit.ie
Kind regards
The CIT Library Support Team