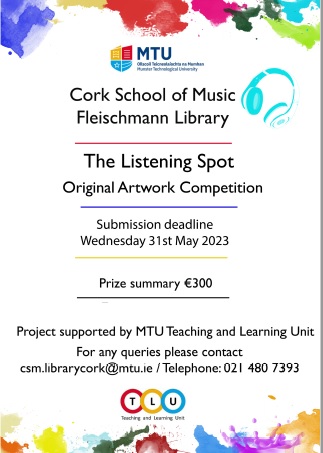 Cork School of Music Fleischmann Library in collaboration with the MTU Teaching and Learning Unit are calling for entries to a unique graphic design art competition.

All MTU students are invited to submit an original graphic design artwork for the newly created listening area in the CSM library, The Listening Spot.

The Listening Spot is a space where students and teachers can maximise their listening experience of the CD and Vinyl collections on newly acquired high-definition
audio equipment.

This space is intended to be a focal point to help MTU students and teachers progress in their personal and academic development.

Your graphic art design will have the purpose of visually enhancing and celebrating the newly dedicated listening area and raising awareness of the CD
and Vinyl collections consisting of Classical, Jazz, Irish Traditional, Opera, Musical Theatre, Blues, and Pop music.
Full competition details can be viewed here.

Creative Requirements:
Your entry will consist of two separate landscape designs, which will be thematically linked. The selected designs will be printed onto two large boards approximately
300cm x 150cm each. For more details about the area where the design will be displayed, please click this Link and see the photos at the bottom of the page.
*Competition deadline - Wednesday 31st May 2023