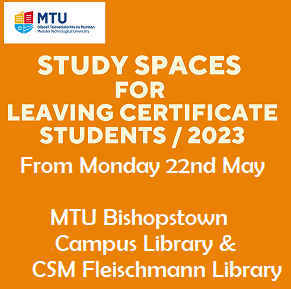 2023 Leaving Certificate Student Access available from Monday 22nd May:
We're delighted to announce that 2023 Leaving Certificate students can now apply for study access in the MTU Bishopstown campus library or CSM Fleischmann Library.
Study access will be available to all Leaving Cert students from all Cork Secondary Schools from Monday 22nd May onwards. The children of MTU staff are also particularly welcome to apply for study access.
Full details of this initiative and an online application form for the Bishopstown campus library can be accessed here.
Apply for access to the CSM Fleischmann Library here
If you have any questions regarding study access for Leaving Certificate Students, please contact us at library.infocork@mtu.ie
We look forward to welcoming Leaving Certificate Students to our Libraries after Monday 22nd May and we wish them every success in their upcoming examinations.
Kind regards
The MTU Library Support Team