"Do what you can, with what you have, where you are." - Theodore Roosevelt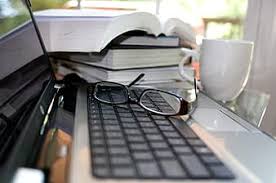 If you're studying at home right now, it's important that you identify a suitable place to study. If you're fortunate enough to have a desk, that's great, but any work-surface such as a kitchen table, counter space or even an ironing board or your bed – any space where you can sit comfortably and take notes - will also be fine.
The important thing is that your space works for you.
It might also be a good idea to let the rest of the people you are living with know that this is your personal study place as we approach exams.
Do your best to keep this study space as clean and as orderly as you can. Keeping your space organized can help create a clear mind and help you be more effective when studying. But don't worry if that is not case.
Keep all the things that you need for study close at hand. This way you won't waste valuable time looking for such items as books, study notes, your laptop or stationery.