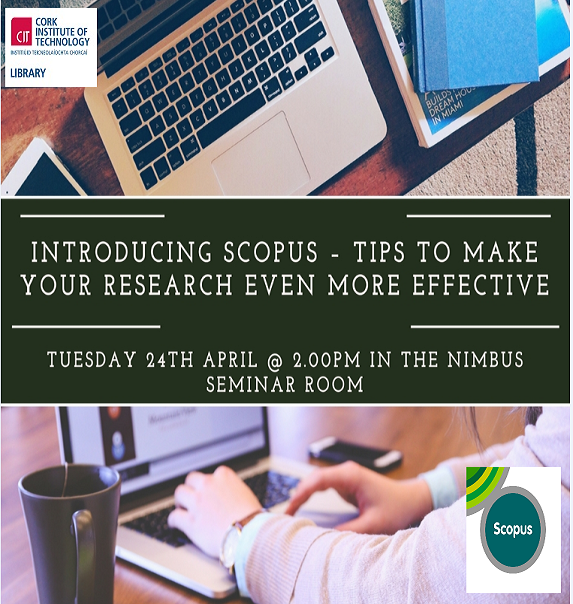 A training session entitled Introducing Scopus – Tips to make your research even more effective will be of particular interest to Researchers, Academics and Post-Graduate Students this April. The training session will be delivered by Elsevier staff.
If you are unfamiliar with the Scopus product, this is an ideal opportunity to discover more about this invaluable resource and how it can assist you with your own research.
Researchers seek a digital environment where ideas can be exchanged, examined, and applied with tools that empower scientific, medical and technical knowledge. Scopus seamlessly allows you to find & analyse data from over 5000 publishers, access the leading journal articles published by Elsevier on ScienceDirect, manage your research and showcase your profile via free services such as Mendeley, ORCID etc. Scopus delivers a comprehensive overview of the world's research output in the fields of science, technology, medicine, social sciences, arts and humanities.
Topics which will be covered during this training session will include the following:
What content does Scopus index?
How to find relevant information, personalize Scopus and stay up to date in your field.
How can researchers strategically manage their career: see who is citing their work, compare journals, how can they identify research collaborators, stay up to date in their field, decide where to publish?
Overview of bibliometrics, what is available in SCOPUS? H-Index, Journal metrics IPP, SNIP & SJR, Article level metrics (Altmetric, Mendeley) .
Checking your Author Profile in Scopus, how to correct your publication list, ORCID integration.
Where to find further information
To register for a place on this training session, please visit the following Link
Please note that places on this training session are limited & will be provided on a first come, first served basis.
We look forward to seeing you there.